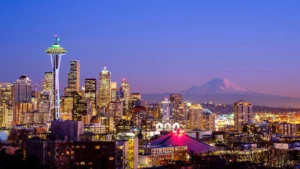 Via Inc.com, written by Matt Decoursey
Seattle has a long history of innovation and entrepreneurship. The legacy of the Emerald City laid a cultural foundation for the kind of risk-taking conducive to startup success. The region attracts top talent from around the world, fueling startups with a deep pool of skilled workers.
Startup Hustle, my podcast, features startups in a different city each month. Seattle provides a creative atmosphere with a diverse and vibrant culture and an abundance of recreational opportunities. From software and e-commerce to health care and biotech, Seattle is home to some of the world's most innovative and disruptive companies.
Let's take a look at 12 noteworthy startups from Seattle and highlight the unique contributions made by this dynamic dozen.
CalmWave aims to reduce noise, increase actionable alarms, and use data ingestion to help hospitals streamline operations. The data helps administrators better understand the workload of nurses and doctors. The company raised $4 million in a seed round in November.
Common Room
Common Room is an intelligent platform used by developer relations and community teams to engage and activate. It consolidates community engagement, product usage, and customer data into one place. Common Room then applies intelligence to present actionable insights. Co-founders Linda Lian, CEO, and Viraj Mody, CTO, secured $52.9 million in three funding rounds.
DexCare
If the pandemic has shown us anything, it's that proper management of health system capacity is crucial. DexCare developed platform-as-a-service software that manages health system capacity and demand. It provides intelligent navigation and load balancing across providers, settings, modalities, and service lines.
The company also leverages health systems' existing electronic medical records (EMR), caregiver, and brand investments. DexCare helps health systems evolve into a highly scalable digital experience for patients. DexCare's founding team is CEO Derek Streat and chief commerce officer Sean O'Connor. The company has raised $70 million in two funding rounds since 2021.
Earth Finance
Many startups and tech companies are rapidly developing new solutions to meet climate goals. Enterprise-focused companies offering services to energy customers are raising some of the largest rounds. Earth Finance provides services to achieve these aims.
Earth Finance is a firm focused on corporate strategy and climate investing that recognizes the interplay between strategy, investing, public policy, and science. The founders are investment executive Bryan Weeks, climate strategy adviser Garrett Kephart, and Reuven Carlyle, a former Washington state senator. Earth Finance raised $14 million in seed funding in February.
Humanly.io
Humanly optimizes job recruiting with software that uses conversational A.I. to automate candidate screening and scheduling while eliminating bias and considering qualifications beyond the résumé. By engaging with each candidate individually, Humanly streamlines the candidate selection process, freeing up valuable time for recruiters.
Using a dynamic, mobile-friendly conversation with Humanly, candidates respond to screening questions to determine their role fit, qualifications, and predicted impact. The founders of Humanly are CEO Prem Kumar and CTO Bryan Leptich. Under their leadership, the company has raised $5.1 million in four funding rounds from 12 investors.
LifeAt
Remote work started as a solution. But with it came a new set of problems. LifeAt has developed a virtual workspace with modular productivity and focus software that simplifies productivity management and prevents focus drift.
Founders Devin Ajimine, CEO, and Pouya Rad, CTO, wanted to redefine the workspace in the remote/hybrid work era. Productivity tools allow users to create digital offices, promoting a clear boundary between work and personal life. LifeAt raised $3 million in a seed round in January.
MotherDuck
Tech is only as good as its database. MotherDuck is a cloud-based service using new DuckDB technology to provide an easy-to-use, serverless data analytics platform for lightweight use cases. MotherDuck enhances DuckDB with new features that leverage the collaboration and scalability of the cloud to deliver better analytics. Operating under CEO and co-founder Jordan Tigani, MotherDuck has raised $47.5 million in funding.
Protect AI
Machine learning and A.I. significantly benefit many industries, but they also introduce novel cybersecurity risks, primarily through data manipulation. These include model poisoning and adversarial attacks. Protect AI is a cybersecurity firm specializing in safeguarding machine learning (ML) and A.I. platforms.
Protect AI ensures that ML models and A.I. applications are secure and compliant with legal regulations. The company's flagship product is NB Defense. It focuses on identifying vulnerabilities in Jupyter Notebooks, an ML supply chain core component. The firm is the brainchild of co-founders Ian Swanson, CEO, and Badar Ahmed, CTO, and raised $13.5 million in a seed round in December.
Shipium
The rise of e-commerce has retailers in need of help dealing with delivery delays, damaged goods, and rising costs. Shipium is a technology-driven supply chain and logistics company that aims to solve "the Prime problem."
Shipium manages warehouse inventory, selects optimal shipping carriers, prints labels, and tracks packages in real time. The platform also optimizes delivery through third-party logistics companies. It is the brainchild of co-founders Jason Murray, CEO, and Mac Brown, CTO. It has raised $37.5 million in three funding rounds.
Spice AI
Developing and deploying decentralized applications (dApps) on Web3 requires specialized infrastructure and tooling, which can be challenging and time-consuming for developers. Spice AI is a developer-first infrastructure platform for Web3 specifically aimed at simplifying the integration of A.I. into applications. Spice AI has raised $14.6 million in two rounds since 2021 under co-founders Luke Kim, CEO, and Phillip LeBlanc, CTO.
Workflow Labs
With its automation software that leverages meaningful and actionable data, Workflow Labs is addressing the most challenging aspects of e-commerce management. It combines software automation with expertise to make catalog, merchandising, and operations management easy, scalable, and reliable. With CEO and founder Justin Leigh at the helm, Workflow Labs raised $850,000 in a preseed round in May 2022.
Yoodli
Yoodli is a free communication coaching app relying on A.I. to help users improve their communication skills. The tool enables users to enhance their communication abilities without the stress of performing in front of an audience.
With the platform, you can receive an immediate transcript and analysis of your use of filler words, non-inclusive language, pacing, body language, and more. Co-founded by Esha Joshi and Varun Puri, the company has raised $7 million in two funding rounds since 2021.