Via TechBullion, written by Angela Scott-Briggs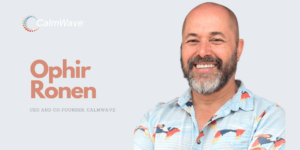 In the healthcare sector, there is an average estimate of 771 alerts per bed, per day, of which 99% turn out to be false positives or insignificant. However, In this interview with TechBullion, Ophir Ronen, CEO of CalmWave, sees the problem going further, as this fatigue causes more stress for practitioners, their patients, and their families, ultimately impacting patient outcomes and staff retention.
Here, Ophir explains why alarm fatigue is an 'endemic' within the healthcare industry; how alarm fatigue is affecting doctors and nurses and how to address this problem through AI and analytics technology.
Please tell us more about yourself?
I'm Ophir Ronen, founder and CEO of CalmWave. As a serial tech entrepreneur, I began my career as a co-founder of Internap Network Services, one of the first commercial Internet backbones which IPO'd in 1999. I've since started six companies and achieved three successful outcomes, the last of which was PagerDuty's acquisition of EEHQ.
My current company, CalmWave, uses AI to remediate clinical alarm fatigue in ICUs and build a first-to-market hospital operations orchestration platform to improve nurse retention and patient outcomes.
I hold a number of patents associated with innovations in Enterprise IT Operations and thoroughly enjoy the challenges of zero to one.
What is CalmWave and what inspired this product?
The idea for CalmWave came from the work that my team and I had done in the Enterprise IT space. We built out Operations Health at PagerDuty, which uses AI to monitor an organization's operations, focusing on alarm remediation and retention. While on sabbatical as a search and rescue volunteer after PagerDuty, I heard stories from clinicians about the horrors surrounding alarm fatigue in ICUs. As an expert in the alarm space, I realized healthcare needed to catch up to Enterprise IT.
To do so, I joined the Paul Allen Institute for AI (AI2) incubator, given their alignment with my philosophy on using AI (AI for the common good). The last five companies graduating from the incubator were in the healthcare domain. I'm honored to say that all of the key members of my original Operations Health team joined the team, fusing with healthcare experts and clinicians to build CalmWave. Backed by investors like Bonfire VC, Tau Ventures, and the founders of PagerDuty, CalmWave has the momentum, expertise, and innovative fire to disrupt this industry.
Please enlighten us more, what is alarm fatigue and what are the causes?
Alarm fatigue is when clinicians, especially nurses, become desensitized to the overabundance of alarms they hear to the point that they may miss alarms and have a delayed response. Alarm fatigue is endemic in the modern healthcare system, causing more stress for providers, their patients, and their families, ultimately impacting patient outcomes and staff retention.
Why is alarm fatigue an 'endemic' within the healthcare industry?
With an average of 771 alerts per bed per day in the ICU, 81% of nurses report there are too many alarms. Most of these alarms, 85-99%, are false positives or clinically insignificant. So nurses are being inundated with noisy alarms, many of which are not actionable. As one can imagine, this is stressful and exhausting. There are dozens of devices in the hospital that generate alarms to draw caregiver attention in critical environments. Unfortunately, combining all these devices and conservative device settings with critically ill patients leads to an overabundance of alarms that overwhelm everyone.
How is alarm fatigue affecting doctors and nurses in particular?
Alarm fatigue contributes far more to nurse burnout than the healthcare industry appreciates. Nurses are bombarded with alarms and learn to block them out to focus on their job. Ignoring alarms can lead to mistakes, accidents, and desensitization to critical alerts. It also leads to mistrust of the technology they're supposed to rely on to care for patients in the most critical environment. It's no wonder nurses are leaving the profession at an alarming rate, especially in critical care environments.
There are several factors causing nurse attrition, including understaffing, long hours, lack of resources, and a high-stress work environment. But there is no doubt that the chaos causing this high-stress environment is due to ever-expanding patient monitoring technology that generates more and more data, leading to more and more alerts that, unfortunately, don't help anybody.
How is AI and analytics technology the solution to this problem? Could you give us an overview of the role of AI in this innovation?
One of the main issues with alarm fatigue in critical care environments is that there's too much data flowing and not enough information. Each unique vital signs monitor that a patient is attached to has its thresholds and generates numerous daily alerts and alarms. The first step towards fixing this situation is to aggregate the patient and clinician data from each disparate source to solve this issue as a starting point. This aggregation is where AI comes in. AI can compile and cluster various pieces of data to provide the clinician with trends, insights, and patterns so that they can focus on their primary responsibility; healing their patients.
CalmWave utilizes AI to harness information like heart rate, blood oxygen saturation, and blood pressure from different vital signs monitors to provide a comprehensive picture of how each patient is doing. AI also allows us to analyze trends in the data to determine optimal alarm thresholds unique to each ward or patient. Ultimately, CalmWave's AI technology ingests huge amounts of data and analyzes that data in a predictable and explainable fashion to reduce the number of false positive alarms, optimize alarm thresholds, and provide comprehensive insight into the health of patients and clinicians.
Could you give us a walkthrough of the CalmWave system, how does it work and what unique features does it have? 
CalmWave™ uses AI and advanced analytics to determine optimal vital signs alarm parameters and with which to measure Clinical Operations Health.
Operations Health is the ability to define, capture, and analyze operations metrics to gain visibility of workload events so clinicians can take appropriate action. CalmWave utilizes AI/ML techniques to provide more accurate alarm threshold parameters and generate early warning alerts by patient category or individual patient.
Along with other key data inputs, CalmWave built the first-to-market objective measure of clinician workload with an eye toward staff retention. Our Operations Health platform reduces (unnecessary) alarms, orchestrates staffing, tracks employee health, and improves patient outcomes.
Determines optimized settings for each unit.
CalmWave analyzes a department's historical data to determine optimized unit-level thresholds. Clusters and cohorts are also identified based on various inputs collected (interventions, medications, labs, findings, patient history, and others).
Generates customized models for each patient.
CalmWave Optimized™ models use real-time and historical data to provide a best-fit model for each patient to set alarm thresholds, generate early warning degradation alerts, and analyze and implement noise reduction.
Provides an objective measure of performance.
CalmWave's Operations Health Scoring analyzes workload by the care provider, unit, or hospital in increments of shift, day, week, month, or year. CalmWave also gives an objective measure of Operations Health based on vital signs (& EMR) activity. This objective measure of clinical workload also provides a clear method to monitor employee health, leading to enhanced orchestration and retention of critical resources.
Who needs CalmWave and what are the responses to the product so far, any use cases or success stories to share with us?
CalmWave aims to reduce alarm fatigue and improve clinicians' working conditions in critical care environments such as intensive care units. We are listening and learning from users in the healthcare environment to recognize their current challenges, including barriers to adopting new solutions that are available today. There has been an overwhelmingly positive response from clinicians, hospital administrators, and even patients that we have spoken to about CalmWave's technology. All agree that noise levels in critical care units are unacceptable, and CalmWave has the technology to remediate this issue and much more.
We've assembled (and challenged) a team of doctors and nurses to help us fix the problems they've experienced for years in the hospital. Then we recruited the best data scientists, software developers, and UX designers to implement it. We are creating cutting-edge AI-based health technology and putting clinicians at the forefront of the design and implementation processes so that our technology can and will be useful in their existing workflows.
What are you currently working on and what is next on your roadmap? Any available opportunities for investors or partnerships on the CalmWave projects?
CalmWave has a multi- faceted roadmap which adds value incrementally upon achieving success in a given facet. For example, we are starting with remediating alarm fatigue in ICUs, a boon for clinicians, patients, and their caregivers. By remediating alarm fatigue, CalmWave uses the underlying data of vital signs and interventions to build Operations Health and Patient Acuity, both first-to-market features.
Operations Health not only empowers hospital administrators to view and rectify their hot spots of potential staff attrition, but it also provides hospitals with the ability to benchmark themselves against their peers. Beyond Operations Health, CalmWave will be building out Operations Maturity so that hospitals can objectively assess the maturity of their operations and, as with Operations Health, benchmark themselves against their peers in terms of revenue and size.
Certainly, we are always looking for investors that can help us achieve our vision of building the world's first Hospital Operations Orchestration platform. Likewise, with respect to partnerships, we have and are partnering with a number of leading academic research hospitals as design partners.
Where do you see the future of the healthcare technology industry? Do you have more tips for our readers today?
The pandemic, as devastating as it was, was a wake-up call for healthcare administrators and executives. Medical employees are overworked and underpaid, and the system overall is too fragile. Leaders realize that they must find faster and more efficient ways to implement enabling technologies that will help them handle the growing needs of their patients and communities while reducing staff burden and improving retention.
Technologies that demonstrate immediate impact while considering stakeholders (training, IT, security, support, and others) will be the solutions that healthcare organizations gravitate towards. Technology and innovation alongside healthcare champions will result in improved outcomes for clinicians and patients, but doing so will demand concentrated efforts and close partnerships between technologists and clinicians.
What you can measure, you can improve. In the case of healthcare staff retention and orchestration, more than surveys are needed. The key is to unlock the incredible value in the data already being generated by the devices and systems in meaningful and innovative ways for the entire organization.